Below are some recommended books—fiction and nonfiction—that shed light on military experiences.
Civil War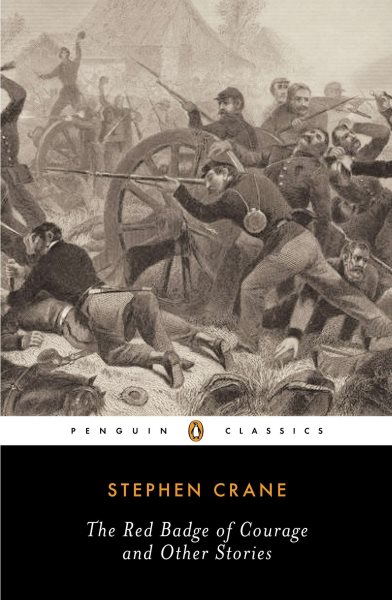 The Red Badge of Courage.  by Stephen Crane –This great classic of the American Civil War is one of the most important accounts of the reality of war and its aftermath. It deals with the effects of the war on one man, and speaks for a generation.
Grant comes east : a novel of the Civil War / Newt Gingrich, William R. Forstchen and Albert S. Hanser, contributing editor. — "Grant Comes East," the second book in the bestselling series by Newt Gingrich and William R. Forstchen, continues the story of a Confederate victory at Gettysburg.
World War I
 All quiet on the western front / Erich Maria Remarque ; translated from the German by A. W. Wheen.  This is the testament of Paul Bumer, who enlists with his classmates in the German army during World War I. They become soldiers with youthful enthusiasm. But the world of duty, culture, and progress they had been taught breaks in pieces under the first bombardment in the trenches.
The Absolutist / John Boyne. "A novel of immeasurable sadness, in a league with Graham Greene's The End of the Affair . John Boyne is very, very good at portraying the destructive power of a painfully kept secret." — John Irving
Since the scheduling of Veterans Day links to the ending of World War I, I would also like to add in two current-day mystery series about WWI volunteer nurses.  The first is Bess Crawford (by Charles Todd) and the second is  Maisie Dobbs (by Jacqueline Winspear); both are hard to put down.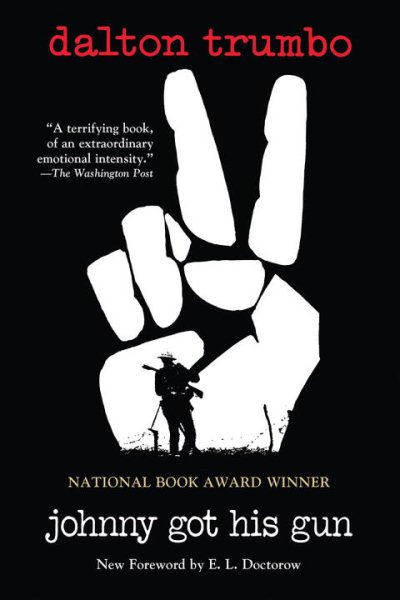 One of my favorite books of all time is Johnny Got His Gun by Dalton Trumbo.  A harrowing look at World War I, told in first person, and a scathing indictment of war in general. The searing portrayal of war that has stunned and galvanized generations of readers It was the war to end all wars, the global struggle that would finally make the world safe for democracy–at any cost. But one American soldier has paid a price beyond measure. And within the disfigured flesh that was once a vision of youth lives a spirit that cannot accept what the world has become.
A fictionalized account of true events, the Harlem Hellfighters by Max Brooks tells how a regiment of African American soldiers from Harlem journeys across the Atlantic to fight alongside the French in World War I, inspiring a continent with their brand of jazz musi
Also worth mentioning is A Farewell to Arms by Ernest Hemingway. This is the unforgettable story of an American ambulance driver on the Italian front and his passion for a beautiful English nurse.
World War II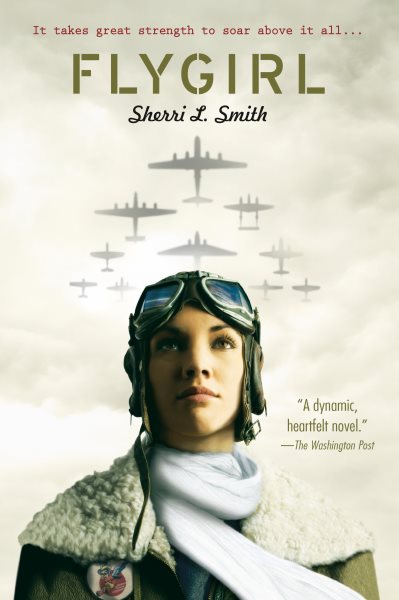 In Flygirl by Sherri L. Smith, All Ida Mal Jones wants to do is fly. Ida's daddy was a pilot, and when he took her flying, she never want to come down again. But after his death, the sky is off-limits to a young black woman such as herself. When America enters World War II, the Army forms the WASP-Women Airforce Service Pilots-and Ida has a chance to join, if she's willing to use her light skin to pass as a white girl. She want to fly more than anything, but Ida soon learns that denying one's identity and family is a heavy burden.
Another favorite is Code Talker: A Novel About the Navajo Marines of World War Two -by Joseph Bruchac. After being taught in a boarding school run by whites that Navajo is a useless language, Ned Begay and other Navajo men are recruited by the Marines to become Code Talkers, sending messages during World War II in their native tongue
All the light we cannot see  a novel by Anthony Doerr. A stunningly ambitious
and beautiful novel about a blind French girl and a German boy whose paths collide in occupied France as both try to survive the devastation of World War II. Marie Laure lives with her father in Paris within walking distance of the Museum of Natural History where he works as the master of the locks (there are thousands of locks in the museum). When she is six, she goes blind, and her father builds her a model of their neighborhood, every house, every manhole, so she can memorize it with her fingers and navigate the real streets with her feet and cane. When the Germans occupy Paris, father and daughter flee to Saint-Malo on the Brittany coast, where Marie-Laure's agoraphobic great uncle lives in a tall, narrow house by the sea wall. In another world in Germany, an orphan boy, Werner, grows up with his younger sister, Jutta, both enchanted by a crude radio Werner finds. He becomes a master at building and fixing radios, a talent that wins him a place at an elite and brutal military academy and, ultimately, makes him a highly specialized tracker of the Resistance. Werner travels through the heart of Hitler Youth to the far-flung outskirts of Russia, and finally into Saint-Malo, where his path converges with Marie-Laure.
Touted as a young adult novel,  Code Name: Verity by Elizabeth Wein will have appeal to adults as well. In 1943, a British fighter plane crashes in Nazi-occupied France and the survivor tells a tale of friendship, war, espionage, and great courage as she relates what she must to survive while keeping secret all that she can.
Vietnam
If I Die in a Combat Zone, Box Me Up and Ship Me Home is Tim O'Brien's autobiographical account of fighting the Vietnam War.  Tim O'Brien gave us this intensely personal account of his year as a foot soldier in Vietnam. The author takes us with him to experience combat from behind an infantryman's rifle, to walk the minefields of My Lai, to crawl into the ghostly tunnels, and to explore the ambiguities of manhood and morality in a war gone terribly wrong.
The Things They Carried! is a classic work of American literature that has been changing minds and lives since it burst onto the literary scene. It is a groundbreaking meditation on war, memory, imagination, and the redemptive power of storytelling. In the Lake of the Woods is an unforgettable novel of love and mystery. When long-hidden secrets about his past come to light, John Wade–a Vietnam veteran and recent candidate for the U.S. Senate–retreats with his wife to a cabin in northern Minnesota. She mysteriously vanishes and several explanations, all of them disturbing, rise to the surface.
I would like to recommend Patrol by Walter Dean Myers. It is the story of a young American soldier waits for his enemy, rifle in hand, finger on the trigger. He is afraid to move and yet afraid not to move. Gunshots crackle in the still air. The soldier fires blindly into the distant trees at an unseen enemy. He crouches and waits — heart pounding, tense and trembling, biting back tears. When will it all be over? Walter Dean Myers joined the army on his seventeenth birthday, at the onset of American involvement in Vietnam, but it was the death of his brother in 1968 that forever changed his mind about war. In a gripping and powerful story-poem, the award-winning author takes readers into the heart and mind of a young soldier in an alien land who comes face-to-face with the enemy. Strikingly illustrated with evocative and emotionally wrenching collages by Caldecott Honor artist Ann Grifalconi, this unforgettable portrait captures one American G.L's haunting experience.
Matterhorn by Karl Marlantes.  It is the timeless story of a young Marine lieutenant, Waino Mellas, and his comrades in Bravo Company, who are dropped into the mountain jungle of Vietnam as boys and forced to fight their way into manhood.
Please stop by and browse our display in the atrium featuring books on the Vietnam War.  Can't make it here right away?  Click on the book/DVD  titles in the list below to view items in our catalog, check availability, and request items.
NEW – The Vietnam War [videorecording] / a production of Florentine Films and WETA, Washington, DC ; a film by Ken Burns & Lynn Novick ; directed by Ken Burns & Lynn Novick ; written by Geoffrey C. Ward ; produced by Sarah Botstein, Lynn Novick, & Ken Burns. — In an immersive narrative, Burns and Novick tell the epic story of the Vietnam War as it has never before been told on film. Features testimony from nearly 100 witnesses, including many Americans who fought in the war and others who opposed it, as well as Vietnamese combatants and civilians from both the winning and losing sides.
NEW – Hue 1968 : the turning point of the American war in Vietnam : Bowden, Mark — Hue 1968 is the story of the centerpiece of the Tet Offensive and a turning point in the American War in Vietnam.In the early hours of January 31, 1968, the North Vietnamese launched over one hundred attacks across South Vietnam in what would become known as the Tet Offensive.
NEW – The Odyssey of Echo Company : the Tet Offensive and the epic battle of Echo Company to survive the Vietnam War / Doug Stanton. –A powerful work of literary military history from the New York Times bestselling author of In Harm's Way and Horse Soldiers, the harrowing, redemptive, and utterly unforgettable account of an American army reconnaissance platoon's fight for survival during the Vietnam War–whose searing experiences reverberate today among the millions of American families touched by this war.
The father of all things : a Marine, his son, and the legacy of Vietnam / Tom Bissell. –Opening with an account of the chaotic and brutal last month of the war, The Father of All Things is Tom Bissell's reckoning with the Vietnam War and its impact on his father, his country, and Vietnam itself. Through him we learn what it was like to grow up with a gruff but oddly tender veteran father who would wake his children in the middle of the night when the memories got too painful.
The Pentagon papers as published by the New York times. The Pentagon history was obtained by Neil Sheehan. Written by Neil Sheehan [and others] – A report on the government sponsored top-secret history of the United States relations with Indochina, first published in the New York Times.
A soldier reports / William C. Westmoreland. — General Westmoreland traces his career from his cadet days at West Point through World War II and Korea, and concentrates on his years as commander of United States military forces in Vietnam.
The ten thousand day war : Vietnam, 1945-1975 / Michael Maclear. — Like Charlton and Moncrieff's Many Reasons Why (1979), Maclear's documentary history of the Vietnam War is based on interviews and statements by participants, and taken from a TV series; but unlike its predecessor, Maclear's round-up is not just another chance for the actors to rewrite their parts. Maclear, a Canadian journalist/observer, doesn't overlook either the North Vietnamese or the antiwar movement–and he doesn't pretend that he's neutral, either.
Triumph forsaken : the Vietnam war, 1954-1965 / Mark Moyar. — Drawing on a wealth of new evidence from all sides, Triumph Forsaken overturns most of the historical orthodoxy on the Vietnam War. Through the analysis of international perceptions and power, it shows that South Vietnam was a vital interest of the United States. The book provides many new insights into the overthrow of Ngo Dinh Diem in 1963 and demonstrates that the coup negated the South Vietnamese government's tremendous, and hitherto unappreciated, military and political gains between 1954 and 1963. country.
The Vietnam War : an intimate history / Geoffrey C. Ward ; based on a documentary film by Ken Burns & Lynn Novick ; with a preface by Ken Burns & Lynn Novick. — More than forty years after it ended, the Vietnam War continues to haunt our country. We still argue over why we were there, whether we could have won, and who was right and wrong in their response to the conflict. When the war divided the country, it created deep political fault lines that continue to divide us today. Now, continuing in the tradition of their critically acclaimed collaborations, the authors draw on dozens and dozens of interviews in America and Vietnam to give us the perspectives of people involved at all levels of the war: U.S. and Vietnamese soldiers and their families, high-level officials in America and Vietnam, antiwar protestors, POWs, and many more.
The Vietnam war : the story and photographs / by Donald M. Goldstein, Katherine V. Dillon, and J. Michael Wenger. — In this their latest illustrated war volume, Donald M. Goldstein, Katherine V. Dillon, and J. Michael Wenger show you the battles, leaders, weapons, heroism, and pain of the Vietnam War, from its earliest beginnings to the fall of Saigon in 1975.
Home to war : a history of the Vietnam veterans' movement / Gerald Nicosia. — An epic narrative history that chronicles, for the first time, the experience of America's Vietnam veterans who returned home to fight a different kind of war. The courageous Americans who served in Vietnam fought two wars: one on the other side of the world and one when they returned home. The battle abroad took place in war-scarred Asian hamlets, rice paddies, and jungles where thousands of Americans risked life, limb, and spirit in a conflict few of them fully understood. The second war began when these same soldiers came home to face another fight, this one for the hearts and minds of their countrymen, and for their own health, sanity, and peace of mind.
My Lai : Vietnam, 1968, and the descent into darkness / Howard Jones. — In this raw, searing new narrative account, Howard Jones reopens the case of My Lai by examining individual accounts of both victims and soldiers through extensive archival and original research. Jones evokes the horror of the event itself, the attempt to suppress it, as well as the response to Calley's sentence and the seemingly unanswerable question of whether he had merely been following orders.
Tiger Force : a true story of men and war / Michael Sallah and Mitch Weiss. — The Tigers were to be made up of the cream of the crop-the very best and bravest soldiers the American military could offer. They would be given a long leash, allowed to operate in the field with less supervision. Their mission was to seek out enemy compounds and hiding places so that bombing runs could be accurately targeted. They were to go where no troops had gone, to become one with the jungle, to leave themselves behind and get deep inside the enemy's mind. The experiment went terribly wrong.What happened during the seven months Tiger Force descended into the abyss is the stuff of nightmares.
NEW – A great place to have a war : America in Laos and the birth of a military CIA / Joshua Kurlantzick. — The untold story of how America's secret war in Laos in the 1960s transformed the CIA from a loose collection of spies into a military operation and a key player in American foreign policy. In 1960, President Eisenhower was focused on Laos, a tiny Southeast Asian nation few Americans had ever heard of. Washington feared the country would fall to communism, triggering a domino effect in the rest of Southeast Asia. So in January 1961, Eisenhower approved the CIA's Operation Momentum, a plan to create a proxy army of ethnic Hmong to fight communist forces in Laos.
Embers of war : the fall of an empire and the making of America's Vietnam / Fredrik Logevall. — WINNER OF THE PULITZER PRIZE    Embers of War is a landmark work that will forever change your understanding of how and why America went to war in Vietnam. Tapping newly accessible diplomatic archives in several nations, Fredrik Logevall traces the path that led two Western nations to tragically lose their way in the jungles of Southeast Asia.
Dispatches / Michael Herr. — From its terrifying opening pages to its final eloquent words, Dispatches makes us see, in unforgettable and unflinching detail, the chaos and fervor of the war and the surreal insanity of life in that singular combat zone. Michael Herr's unsparing, unorthodox retellings of the day-to-day events in Vietnam take on the force of poetry, rendering clarity from one of the most incomprehensible and nightmarish events of our time. Dispatches is among the most blistering and compassionate accounts of war in our literature.
My detachment : a memoir / Tracy Kidder. — My Detachmentis a war story like none you have ever read before, an unromanticized portrait of a young man coming of age in the controversial war that defined a generation. In an astonishingly honest, comic, and moving account of his tour of duty in Vietnam, master storyteller Tracy Kidder writes for the first time about himself. This extraordinary memoir is destined to become a classic.
What it is like to go to war / Karl Marlantes. — Marlantes was dropped into the highland jungle of Vietnam, an inexperienced lieutenant in command of a platoon of forty Marines who would live or die by his decisions. Marlantes survived, but like many of his brothers in arms, he has spent the last forty years dealing with his war experience. In 'What It Is Like to Go to War', Marlantes takes a deeply personal and candid look at what it is like to experience the ordeal of combat, critically examining how we might better prepare our soldiers for war.
When I was a young man : a memoir / Bob Kerrey. — Bob Kerrey grew up outside Lincoln, Nebraska, in the 1950s, and in his trademark style-serious, sometimes wry-he tells of his journey from that heartland to the dangers of Vietnam, to the hospitals where he recovered from his grievous injuries, and finally to the Nixon White House where he was awarded the Congressional Medal of Honor.
NEW _Enduring Vietnam : an American generation and its war / James Wright. — The Vietnam War is largely recalled as a mistake, either in the decision to engage there or in the nature of the engagement. Or both. Veterans of the war remain largely anonymous figures, accomplices in the mistake. Critically recounting the steps that led to the war, this book does not excuse the mistakes, but it brings those who served out of the shadows. Enduring Vietnam recounts the experiences of the young Americans who fought in Vietnam and of families who grieved those who did not return.
The price they paid enduring wounds of war / Michael Putzel. — The Price They Paid is the stunning and dramatic true story of a legendary helicopter commander in Vietnam and the flight crews that followed him into the most intensive helicopter warfare ever-and how that brutal experience has changed their lives in the forty years since the war ended.
Iraq and Afghanistan
On call in hell : a doctor's Iraq War story – A recipient of the Bronze Star with a Combat V for valor, Jadick is the only Navy doctor to have been awarded one so far in the Iraq war. In this riveting memoir, he shares the inspiring story of his decision to accompany the First Battalion, Eighth Marine Regiment to Iraq in 2004, and his experience on the front lines at the Battle of Fallujah.
In The finish : the killing of Osama Bin Laden  from Mark Bowden, the preeminent chronicler of our military and special forces, comes The Finish , a gripping account of the hunt for Osama bin Laden. With access to key sources, Bowden takes us inside the rooms where decisions were made and on the ground where the action unfolded. After masterminding the attacks of September 11, 2001, Osama bin Laden managed to vanish. Over the next ten years, as Bowden shows, America found that its war with al Qaeda–a scattered group of individuals who were almost impossible to track–demanded an innovative approach.
Redeployment by Phil Klay takes readers to the frontlines of the wars in Iraq and Afghanistan, asking us to understand what happened there, and what happened to the soldiers who returned. Interwoven with themes of brutality and faith, guilt and fear, helplessness and survival, the characters in these stories struggle to make meaning out of chaos.
Also recommended is "Home," a short story by George Saunders that can be
read in his recent (amazing) collection Tenth of December.  In "Home," a combat-damaged soldier moves back in with his mother and struggles to reconcile the world he left with the one to which he has returned.
The Yellow Birds by Kevin Powers is a  novel written by a veteran of the war in Iraq.  The Yellow Birds is the harrowing story of two young soldiers trying to stay alive. "The war tried to kill us in the spring." So begins this powerful account of friendship and loss. In Al Tafar, Iraq, twenty-one-year old Private Bartle and eighteen-year-old Private Murphy cling to life as their platoon launches a bloody battle for the city.